Information Related to "The Suitcase"

The Suitcase
I was 4 when I had to leave my home with a suitcase packed with all my possessions. Throughout the painful journey, someone was there to help me through.
by Janet Treadway

I look at the suitcase and memories well up inside. I should have thought about vacations and positive times with family and friends. I should have been excited about getting that suitcase out and trying to figure out what to put in it or what to take out so I could shut it. But instead my mind wanders back to a time when my suitcase had a different meaning. A time when my suitcase took me on a completely different journey.
My journey begins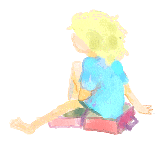 I was a little girl of 4 standing there watching my mother as she hurried about gathering things and placing them in an open suitcase on the couch. My mother carefully buttoned up my coat and then took my tiny, little hand into hers.
She picked up the suitcase with her other hand and walked me out to a strange car where a strange lady waited. My mother placed the suitcase in the car and then slowly bent down with tears in her eyes and placed me in the car and walked away.
As we drove away I looked back to see my mother fading into the distance. I was not to see her for another 10 years. I sat there looking at the suitcase beside me, thinking about how my mother carefully packed my favorite dress and even placed my favorite stuffed monkey, Curious George, in it. Then I glared ahead at this strange woman driving me away to the strange unknown.

My painful and difficult journeys with my suitcase had begun. For no fault of my own, my twin brother and I, along with one sister and two other brothers, were taken from our natural parents and placed in a children's home.
From there my suitcase carried all my belongings from one family to another. It was hard and difficult and I would always cry the night before, knowing that I would be leaving one family that I had gotten used to and head to another home, another family and another school.
The only stabilizing things throughout my childhood and teenage years were my twin brother and God. They were the two who remained with me as I traveled from home to home. My entire journey would include 11 families and two children's homes before I became an adult. I used my suitcase a lot!
I cannot describe how it felt to go into a very strange home, complete with new parents, sisters and brothers. Faces I had never seen before were to become my new mom and dad. Each time I would face a brand-new school to try to make new friends. When difficulties came or the foster parents got tired, they would pack my suitcase and send me on my way. For you see, I did not belong to them. The foster parents had no lifetime commitment to love me, care for me and be concerned for me. The hardest part was just getting used to calling them mom and dad when it would be time to go.
That is how I lived along with my twin brother, Jim, for the next 14 years. Everything was temporary—the home, the parents, my friends. Everything except God. It was God who saw my tears at night and heard my cries. He understood my fear and my great sense of not belonging anywhere, with no parents to call my own. He knew especially the emptiness I felt not having a dad.
That's what I missed more than anything—not having a dad—someone strong I could look up to and who would protect me from harm. I longed for a father to wipe away my tears and fill my lonely heart with love. I missed being tucked in at night and told how much I meant to him and how special I was. But there was someone special who somehow got me through all of that, someone who never left me. God was there to pick me up and keep me going through each change of my life. He became my greatest Dad of all who said, "I will never leave you nor forsake you." My greatest Dad kept that promise.
God was there when I walked down the halls of a new school alone. He was there when I sat down for dinner for the very first time with a new family. He was there when I left with my packed suitcase and said good-bye to the family I had gotten used to. My greatest Dad never let me walk alone when I carried my suitcase in to greet my new set of parents and siblings. He was there to fill my loneliness. I knew He was there because I never would have survived it had He not been.
When you feel lost and alone
Some of you might feel some of the same things that I felt back then. Maybe you have suffered the death of a parent or been through a divorce. Or maybe it just seems like you are going through a tough time with your parents and they just don't understand. You feel lost, alone and that no one understands your pain and sorrow. But you are never without love and support from the greatest Dad of all.

God is someone to whom you can always talk and pour out your soul. He will listen and give you strength to go on when you feel there is no way out. God wants to be your greatest Dad because He knows you better than anyone else. He knows your hurts, perhaps from broken friendships, the things you love, the foods you like and dislike and, yes, even the number of hairs on your head. He knows your frustrations and is willing to step in to encourage you, love you and help you through the most difficult times. He will always be there and never send you packing! No matter how much you mess up.

Look what God says to you in Luke 11:9. "So I say to you, ask, and it will be given to you; seek, and you will find; knock, and it will be opened to you." What do you seek? What do you need? Ask your Father in heaven.

If you have been blessed with parents, love them. Thank your greatest Dad for them. Be thankful that they love you and will not send you packing. If you are without a father or mother, or if your parents are separated and you have to pack a suitcase every weekend, know and remember who goes with you. God will always be there to help you through it. Love your parents even if they are not together, and understand it is not your fault. Talk to God about it and remember He has the power and the will to help you through everything, for He is the father of us all and especially of the fatherless. Take time to read the Psalms and you will see David's need for his greatest Dad and how God responded to his every need.

I was able to get through those very difficult years in my childhood only because God, my spiritual Dad, was there every step of the way. Now when I get out my suitcase I do reflect back for a moment to the time when packing my suitcase was a very painful experience—but no more! For you see, now when I reach for my suitcase, I also have my memories of joyous journeys to spend time learning about and worshiping my heavenly Father at the religious festival the Bible calls the Feast of Tabernacles. These have become high points of the year, and a picture of the time when we can have an even closer relationship with our Father who has always been there for us.

Other things may be temporary, but our relationship with God is eternal. I never have to say good-bye to my greatest Dad! YU

About the author:
Janet Treadway works in the mailing department of the United Church of God in Cincinnati, Ohio.



Contact: Info & Questions | Webmaster © 2003-2020 Vertical Thought — a magazine of understanding for tomorrow's leaders
Sponsored by the United Church of God, an International Association

Related Information:

Table of Contents that includes "The Suitcase"
Other Articles by Janet Treadway
Origin of article "The Suitcase"
Re-published from an earlier version
Keywords: orphaned experience parents, being separated from God as your father

God's calling:

Teens and family: Key Subjects Index
General Topics Index
Biblical References Index
Home Page of this site